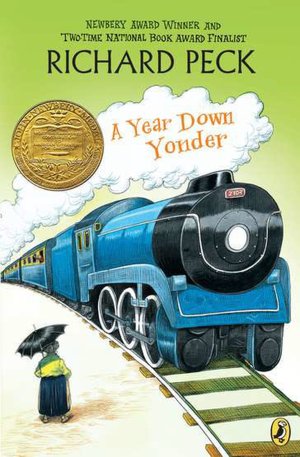 image courtesy of BarnesandNoble.com
A Year Down Yonder by Richard Peck
Call Number FIC PEC
Trying to fit in at a new school is hard enough, but in 1937, Mary Alice is sent from Chicago to live with her Grandma in rural Illinois. Clutching only her transistor radio and Bootsie the cat, Mary Alice wonders how she'll survive.
Mary Alice's first lesson is how to deal with a bully. But her education doesn't end there. Grandma Dowdel also teaches Mary Alice about gossips, vandals and people who think that they are better than others.
Peck's vivid prose takes you right into the school room with Mary Alice as she befriends Ina-Rae and first meets Royce McNabb. You can smell the cherry tarts that Grandma bakes for the DAR's tea in honor of George Washington's birthday. Shiver as Peck has Mary Alice describe the cold in Grandma's house during the winter and laugh out loud at all the surprises he has in store for the reader.
Small town living might have a thing or two to teach this city girl. Will Mary Alice survive all of the disasters, natural or otherwise, that this small town has to offer? Will she stay to live with Grandma after her parents get back on their feet? Read A Year Down Yonder and guffaw your way to the answers to these questions.