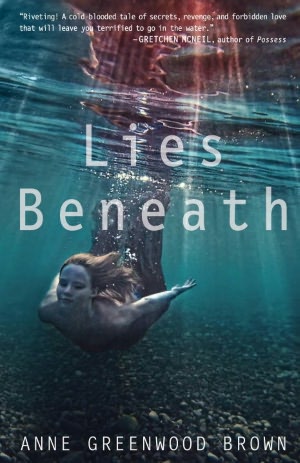 Image courtesy of Barnes and Noble
Lies Beneath
by Anne Greenwood Brown
Call Number:
FIC BRO
This is not your mother's mermaid story.

Forget Ariel.

These mer-people are murderous and they are out for revenge.
Meet the Whites, a family of mer-people; sisters Mavis, Tallulah and Pavati and their brother Calder.

Their mother was killed in a tragic accident.

The siblings are sworn to uphold justice for their mother's death.
That justice is targeted at the human Hancock family; parents Jason and Carolyn and their two daughters, Sophie and Lily.

Jason Hancock has also honored a promise he made to his father; staying away from Bayfield Michigan and staying out of the water.
Will Calder betray his family to protect the girl he has fallen in love with?

How far will his sisters go to avenge their mother's death?

Lies Beneath will leave you guessing until the last page.